How Does USPS Click and Ship Work?
How does USPS Click and Ship work? USPS launched its "Click and Ship" in the early 2000s. Since then, this online tool has changed the way we prepare, pay for, and track our shipments.
Gone are the days of waiting in long lines at the post office and filling out endless forms. USPS Click and Ship has lessened the stress that comes with online shipping.
It doesn't matter if you are a small business owner, or you want to send a gift to your sweetheart, with a few clicks, your package can be picked up from your doorstep.
Let's find out more about what USPS Click and Ship is and how it works.
What is USPS Click and Ship?
USPS Click and Ship is an online service that allows you to print postage labels, pay for postage, and schedule package pickups.
With this service, you don't need to visit a physical post office location.
In the past 20 years, there have been significant changes to USPS Click and Ship. It has been enhanced and made even simpler to use.
How Does USPS Click and Ship Work?
If you're interested in using USPS Click and Ship, here's how it works:
1. Set Up Your USPS Account
The first step in using USPS Click and Ship is to set up an account on the USPS website.
For instructions on creating an account, go to the USPS Click and Ship page. You must enter your contact details, mailing address, and a strong password.
This will allow you to access the dashboard after creating your account.
2. Go to the Click and Ship Dashboard
After logging into your USPS account, you'll be directed to the Click and Ship dashboard. This user-friendly interface makes the shipping process easy.
You can select the type of shipment you want to send from here.
It doesn't matter if you're shipping a standard package, Priority Mail, or internationally.
3. Enter Your Shipment Details
You will be asked to provide your shipment details on the dashboard.
This includes the sender's and recipient's addresses, package dimensions, weight, and the desired shipping method.
Make sure that the information is accurate. It is needed for calculating postage costs and ensuring a smooth delivery process.
4. Choosing a Shipping Option
USPS Click and Ship has different shipping options. There are options for budget-friendly shipping and quick delivery.
Priority Mail, First-Class Package Service, and Media Mail are just a few examples of the available options. You can always try out the rest.
5. Calculate Postage Costs
Once you've entered all the necessary information, USPS Click and Ship calculates the postage cost.
This calculation is based on the package details and the selected shipping method. So, it's safe to say that this platform provides you with a breakdown of the charges.
You can then make a secure online payment using your preferred payment method.
6. Print Your Shipping Label
One of the amazing features of USPS Click and Ship is the ability to create and print shipping labels from your computer.
The platform generates a barcode-enhanced label that contains all the essential shipment details.
It has the sender's and recipient's addresses and the tracking number.  This label can be fixed on your package.
7. Schedule Package Pickup
One of the major advantages of USPS Click and Ship is the option to schedule a package pickup.
Instead of going to the post office, you can request USPS to collect your pre-paid and labeled package from your doorstep.
This service lessens the stress for busy people and small business owners. It erases the need to leave your premises.
8. Track Your Shipment
After your package is collected, USPS Click and Ship continues to provide value.
The platform assigns a unique tracking number to each shipment.
This allows you to monitor its progress in real-time. You can access the tracking information on the USPS website.
READ ALSO:
Benefits of USPS Click and Ship
There are several benefits of USPS Click and Ship. These benefits include:
1. Convenience at Your Fingertips
The era of waiting at the post office in long lines and sweaty faces is over. USPS Click and Ship brings the post office to your computer or mobile device.
With a few clicks, you can handle all your shipping tasks from the comfort of your home or office.
This means no more rushing through traffic or squeezing in errands.
2. Time Savings
The most valuable currency today is time.
USPS helps you to save time by allowing you to create shipping labels, calculate postage costs, and schedule pickups online.
This platform saves you valuable hours that can be invested in more productive activities.
No more standing in line, filling out forms, or making multiple trips to the post office.
3. Effortless Label Printing
Printing shipping labels becomes a breeze with USPS Click and Ship.
You don't have to write addresses and tracking numbers. This platform generates a label containing all the essential information.
You just have to print the label, fix it on your package, and you're good to go.
4. Cost Transparency
USPS Click and Ship remove the guesswork when it comes to postage costs.
As you input your package details and select your preferred shipping method, the platform provides a breakdown of charges.
This makes you fully aware of the costs before making a payment. Also, this transparency helps you plan your budget more effectively.
5. Perfect for Small Businesses
This platform is quite beneficial to small businesses.
Entrepreneurs can focus on growing their businesses rather than spending hours managing logistics.
Also, as a small business owner, Click and Ship lets you input and manage multiple shipments at once.
This is a huge time-saver for businesses that have numerous orders daily.
6. User-Friendly Interface
USPS Click and Ship's user-friendly interface makes the entire process smooth and straightforward.
Even if you're not tech-savvy, the platform guides you through each step. It has dropdown menus, checkboxes, and text fields to help you provide accurate data.
This lets you choose the option that will meet your needs and budget.
Disadvantages of USPS Click and Ship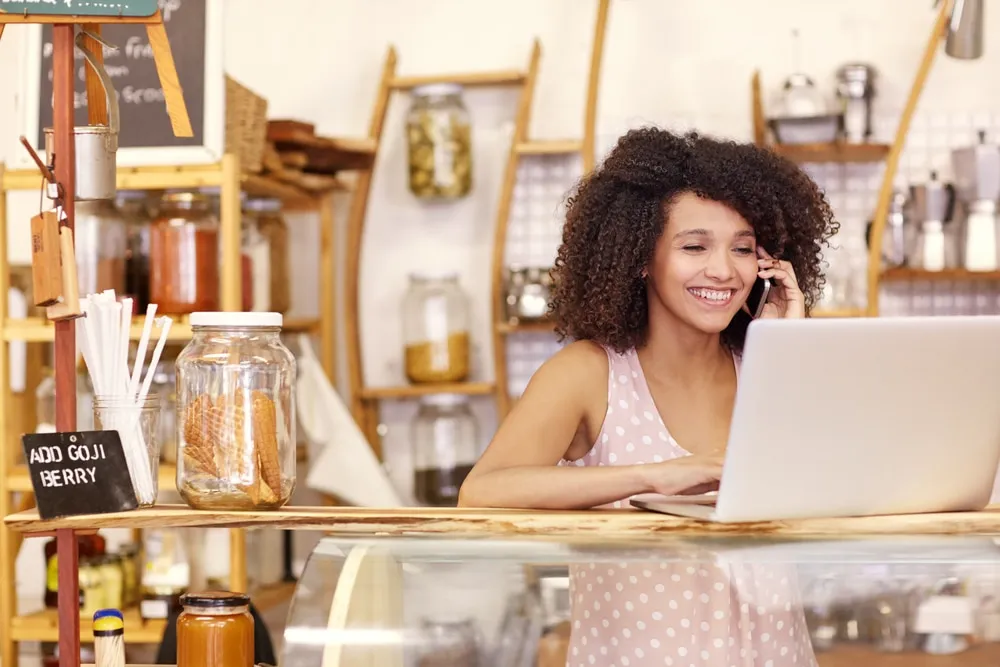 Although USPS click and ship has several benefits, there are still some concerns about:
1. Limited Personal Interaction
While the convenience of online shipping is undeniable, some people value the personal interaction they get at a physical post office.
Click and Ship lacks the face-to-face interaction that some customers might prefer, especially if they have specific questions.
2. Learning Curve
For individuals who are not comfortable with going through the online processes, using USPS Click and Ship will pose a bit of a learning curve.
Some users, particularly older individuals, can find the digital interface a bit complex.
3. Technical Glitches
Just like any online platform, USPS Click and Ship can experience technical glitches or outages.
This can disrupt your shipping plans, especially if you're working with tight timelines.
4. Service Limitations
Although USPS Click and Ship covers a wide range of shipping options, some services might not be available.
This can be a limitation for businesses or individuals with specific shipping needs.
Is there a Fee for Using USPS Click and Ship?
The Click and Ship service is entirely cost-free. It costs nothing for customers to design and print these labels themselves.
The fact that these labels can be made at any time is so much cooler.
So, this means that you get to save some money when you choose USPS click, and ship.
Regular comparisons between postage paid at any local post office and through the USPS Click and Ship prove this fact.
The USPS Click and Ship postage won't necessarily be $0.50 or less than the postage at your local post office.
You'll find the difference in just a few cents on each transaction.
But, if you send a lot of things through the mail, all of these pennies will eventually add up.
Can You Use USPS Click and Ship with All Services?
Only a few USPS shipping options are compatible with Click and Ship.
Although more services can be added as time goes on. But for now, the available services include:
USPS Retail Ground
Priority Mail
Priority Mail Express
Priority Mail Express International
First Class Package International
Global Express Guaranteed
Meanwhile, you'll enjoy using Click and Ship services if you opt for any of the above-listed services.
If you want to use any other service, then Click and Ship shouldn't be an option.
Remember that what you are shipping and how much you have set aside for shipping plays a role in how you enjoy USPS Click and Ship.
What Do You Need for USPS Click and Ship?
The following are the things you need to efficiently use USPS Click and Ship.
They include:
1. Computer or Mobile Device
A computer or mobile device with a live internet connection is a prerequisite for using USPS Click and Ship.
You can manage your shipments from any location because of the user-friendly platform, which makes it accessible on any mobile device.
2. USPS Account
Before you can take advantage of USPS Click and Ship, you'll need to create a USPS account.
This account serves as your "gateway ticket" to the platform and allows you to perform various shipping tasks.
3. Package Details
Accurate package details are important for calculating postage costs and ensuring successful deliveries.
Having this information ready before using USPS Click and Ship helps avoid any surprises during the shipping process.
4. Sender and Recipient Addresses
USPS Click and Ship requires both the sender's and recipient's addresses for successful shipping.
You'll need to input your address as the sender and provide the recipient's address accurately to ensure proper delivery.
5. Printer
The capability to print shipping labels straight from the website is one of USPS Click & Ship's unique capabilities.
Before you start the shipping procedure, confirm that your printer is working and has enough ink and paper.
6. Email Address
USPS Click and Ship communicates important information through email. You'll receive shipping confirmations, tracking updates, and receipts via email.
Therefore, having a valid email address associated with your USPS account is essential.
USPS Click and Ship has changed the way we send packages. You can always take advantage of the power of modern shipping technology.