First Class Vs Priority Mail: Evaluating Shipping Speed and Cost
Whether you want low-cost shipping or quicker delivery for heavier items, understanding the details of USPS First Class vs Priority Mail can help you pick the right option.
When sending packages with USPS, people often choose between First Class Mail and Priority Mail.
Selecting the right USPS service can be challenging, so this guide will assist you in making the best choice for your needs.
Walk with me!
First Class Vs Priority Mail
First Class Mail transports packages in 1 to 5 business days, with delivery time dependent on factors such as distance, postal pathways, and possible delays.
Priority Mail offers a speedier option with a usual delivery window of 1 to 3 business days.
This service gives priority to parcels within the USPS network, leading to swifter handling and transportation compared to First Class Mail.
Some of the other key differences between USPS First Class Mail and Priority Mail include:
1. Purpose and Contents
First Class Mail is meant for small and light things like letters, postcards, documents, and tiny packages.
Priority Mail is designed for packages and envelopes that need faster delivery than regular mail services.
2. Insurance Policy
Priority Mail automatically provides insurance, covering up to $100 for local and $200 for international shipments.
First Class Mail on the other hand offers $100 insurance coverage for most shipments.
Affordability
First Class Mail is usually cheaper than Priority Mail, which is better for smaller shipments.
Priority Mail costs more because it's faster, allows heavier packages, and often includes insurance.
Weight Limit
First Class Mail accepts items up to 13 ounces individually.
Priority Mail allows packages up to 70 pounds for Flat Rate shipments.
What is USPS First Class Mail?
USPS First Class Mail is a popular and affordable domestic mailing service offered by the United States Postal Service (USPS).
It focuses on sending small and lightweight items like letters, postcards, documents, and small packages.
This service is part of USPS's responsibility for mail delivery across the country.
USPS First Class Mail includes different classes:
Letters: For standard-sized envelopes with documents, letters, postcards, and cards, up to 3.5 ounces.
Large Envelopes (Flats): Bigger envelopes for magazines, catalogs, and legal documents.
Packages: For small boxes, padded envelopes, meeting weight and size limits.
Presorted First-Class Mail: Reduced postage for businesses that presort mail.
First-Class Package Service: Up to 15.999-ounce packages with tracking.
First-Class Mail International: Light international mail like letters, and postcards.
Attributes of USPS First Class Mail
Some of the attributes of USPS First Class Mail include:
1. Weight Limit
First-Class Mail has a weight limit of 13 ounces for single pieces.
This means that you can send items weighing up to 13 ounces using this service.
2. Delivery Time
USPS First Class Mail arrives in 1 to 5 business days.
Yet, the exact delivery time could be influenced by things like the sender's and receiver's locations, as well as holidays and weather.
3. Affordability
First Class Mail is one of the most affordable options for sending lightweight items.
The postage rates are lower compared to other shipping methods like Priority Mail or Express Mail.
4. Delivery Confirmation
USPS First Class Mail includes tracking and delivery confirmation for most packages.
This lets both the sender and receiver track the package's journey and get notifications when it's delivered.
5. Size Restrictions
First Class Mail doesn't have strict size limits, but there are size guidelines.
The biggest it can be is 11.5 inches long, 6.125 inches high, and 0.25 inches thick.
6. Postage Options
First Class Mail offers various postage options, including stamps, postage meters, and online postage services.
You can purchase postage and print labels online to simplify the shipping process.
READ ALSO!!!
What is USPS Priority Mail?
USPS Priority Mail is a quicker and more dependable shipping option from the United States Postal Service (USPS).
It's for sending packages that need speedier delivery than regular mail but not as fast or pricey as overnight shipping.
Features of USPS Priority Mail
Priority Mail provides several key features:
1. Delivery Speed
Priority Mail offers delivery in 1-3 business days within the United States.
The exact delivery time depends on the distance between the sender and recipient, as well as factors like holidays and weather conditions.
2. Tracking and Insurance
Priority Mail includes package tracking, allowing both the sender and recipient to monitor the package's progress.
The shipment includes $100 of insurance coverage for most items, which provides some protection against loss or damage.
3. Flat Rate Options
USPS offers Priority Mail Flat Rate boxes and envelopes, where you can ship items regardless of weight within a specific box or envelope size, for a fixed rate.
This can be a cost-effective option for heavier items.
4. Weight Limit
When you use Priority Mail Flat Rate, as long as your package weighs 70 pounds or fewer and fits in the special flat rate packaging, you don't have to weigh it.
This makes sending packages easier.
5. Size Restriction
The size restriction makes sure that package handlers and delivery personnel can handle and deliver packages efficiently.
The maximum size for a Priority Mail is 108 inches in length, 165 inches in width, and 12 inches in height.
6. Package Pickup
USPS Priority Mail offers a complimentary package pickup service.
No need to venture out because the service comes directly to your doorstep, whether it's your home or office.
7. USPS Label Delivery
Even if you don't have access to a printer, USPS has you covered. USPS Click-N-Ship service lets you easily ship online.
For just $1.25, printing of the label will be handled for you.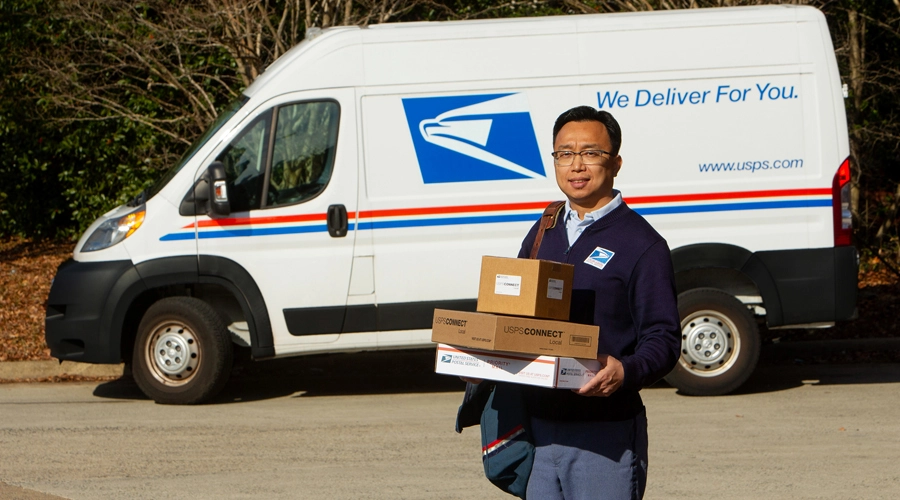 Cost of Using USPS First Class Mail and Priority Mail
The cost of using USPS First Class Mail and Priority Mail is captured in the table below:
USPS Package Service
Cost (Starting from)
First Class Mail
Post Office
$0.66
Commercial
$0.498
Priority Mail
Post Office
$9.35
Commercial
$7.64
Also, sending a package using USPS Priority Mail will incur additional charges for nonstandard sizes based on the following measurements:
If the package length is between 22 and 30 inches, an extra fee of $4.00 will apply.
For packages longer than 30 inches, an additional fee of $15.00 will be added.
If the package exceeds 2 cubic feet (equivalent to 3,456 cubic inches), an extra charge of $25.00 will be levied.
USPS First Class Mail vs. Priority sounds like a competition, but the key to making the right choice has to do with knowing what they offer.
While First Class Mail offers an economical solution for lightweight items with a slightly longer delivery window, Priority Mail steps up the pace for packages requiring faster delivery.
So, take the time to assess your shipping requirements carefully before making your decision.